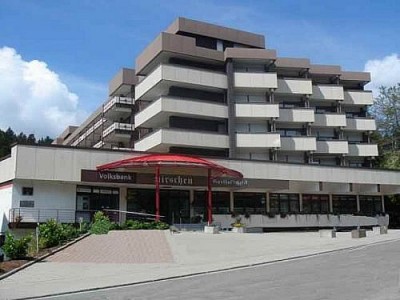 "Residenz Hirschen" in Schönwald
"on top of Black Forest", 3.000 feet over sea level

Schönwald is a climatic health resort, a paradise for cross country skiers, hikers and bikers for recreation ...

Our house offers: 2 lifts, a superb indoor swimming pool (water temperature 28 degrees), reading room, television and a gym with table tennis... Washer and dryer (fee)

Around the house is an excellent infrastructure. Within a radius of approximately 150 meters you will find butchers, bakers, grocers, drugstores, bus stations, post offices, banks, doctors, pharmacies, shops ...
Cross country tracks are 200 meters, skilifts with floodlights just a few minutes away (no fee if paying the local tourist tax).

For the tourist tax the guest gets a "Konus-Gästekarte" with the many services free of charge: Bus and train in a wide radius, the indoor pools of Schönwald and St. Georgen, the solar heated outdoor pool of Schönwald, and the two ski lifts 500 yards away with floodlights, and other lifts, museums ...
Our 3 apartments

are ideal for families, couples who want to spend vacation together. We can organize further apartments in the house.

Capacity of our two apartments

: 9 persons
Facilities: The house and the apartments offer a cozy atmosphere. They are are handicapped accessible (2 lifts).

Address:

Residenz Hirschen, Apt. 472, 473 and 474, Hauptstr. 23, D-78141 Schönwald

Contact for the apartments 472 and 473:


Edith Probst, mobile ++49 (0) 171/225 63 93
Stephan Probst, phone ++49 (0) 7533/2349, mobile ++49 (0) 151/229 63 807

Contact for the apartment: "Sch474":




Ingrid Völz, phone ++49 (0) 761/77690, mobile ++49 (0) 174/90 14 15 9
all
apart-
ments

size sqm

max.
per-
sons

bath+
tub
WC

kit-
chen

balcony
size


floor

price
see

1

37

2-4

1

sep.
kit-
chen

balcony
south-
west
30 sqm

4th
2 lifts

1

30

2

1

integr.
kitchen

balcony
to south
10 sqm




4th
2 lifts

1

30

2-3

1

separate
pantry

balcony
to south
10 sqm

4th
2 lifts